Electricity, the basis of our civilization


Raining is coming, summer arriving soon and with our third world infrastructure, long blackouts and electricity intermittent fail are expected in geometrical scale.
So, forget the devices sold as stabilizers and filters because it will simply not work.
Adopt UPS with at least expansible feature to install additional battery bank to improve time operation. Manageable UPS with updated software is a best choice because we can monitor its performance and status online.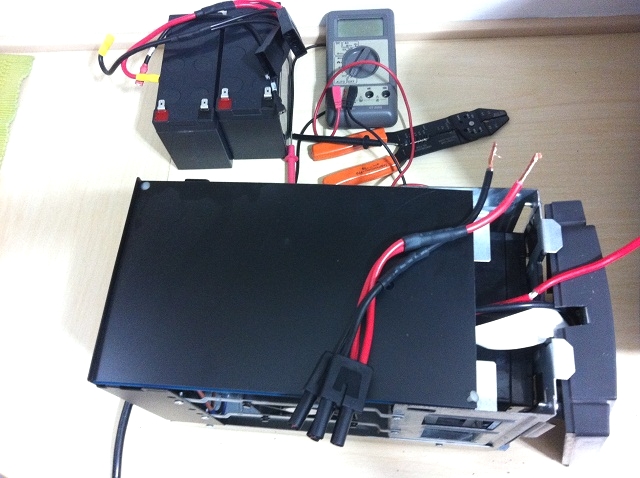 Starting service for adding extra battery bank
APC is a high standard equipment and according to its specifications it could feed one more 24 Volt battery, with the only drawback of need more time to fully charge all batteries.
As a matter of fact, I used the same standard battery and configured a bank using of course a in series configuration and to input this external bank into the system I have cut a piece of its chassis to pass the new cabling and have both positive and negative wires welded in the internal DC line because they are already welded in a special place in the master board.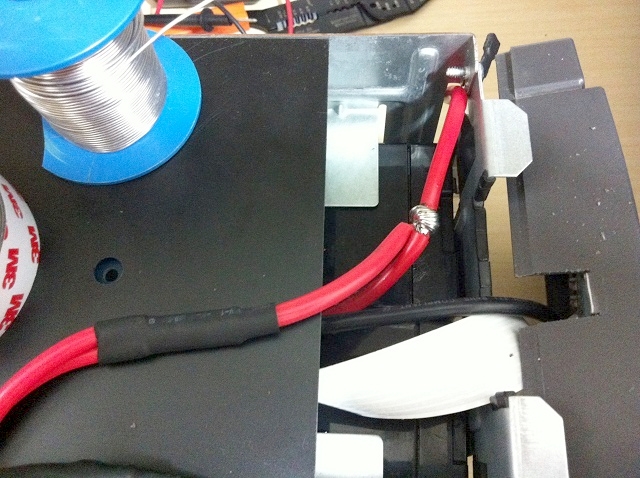 Welding external bank wiring into internal feed
The big deal when you do that is to check to only the specifications of the UPS, but also check if there is a trimpot to adjust the charge tension of the batteries. It may need to increase 1 Volt – depending on the original project – and use good instrument to make all applicable measures to assure the correct drain current for stationary batteries.
The battery bank is attached to the top of main chassis using professional 3M Dual Lock Velcro permanent glued over it, and another face to the batteries, so you provide a stable position for the bank to avoid risk of accidents. In case of battery substitution, just take it away from the top of UPS and use a new piece of 3M Dual Lock into the bottom of the new bank.
Please check the quality of connectors used to assure electrical isolation and mechanically firmed attached to avoid any possibility of short circuit and bad contact which could be catastrophic for your UPS and also for our office, don´t forget electricity outages may cause big troubles and put fire on your site !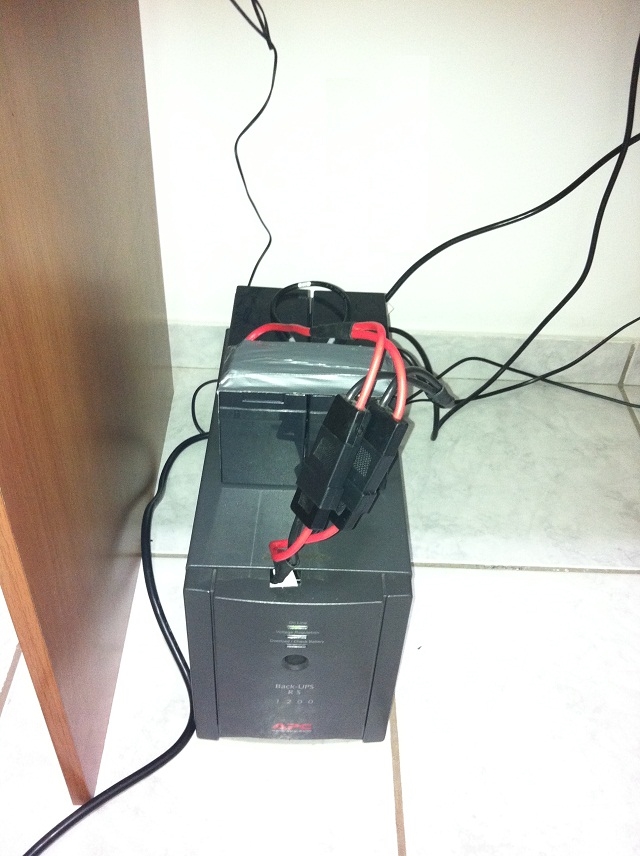 Final assembly of the APC RS 1200 VA with additional battery bank
Now, another feature that must be checked is the operating temperature of rectifier diodes and power transistors, because more current drained, more power and of course more temperature. This APC model has a cooler and I have just reinstalled it very near this components, because in the original position, it were directed to the mains transformer.
Update the management software and check the performance and status of the UPS and we will see almost double time of battery operarion.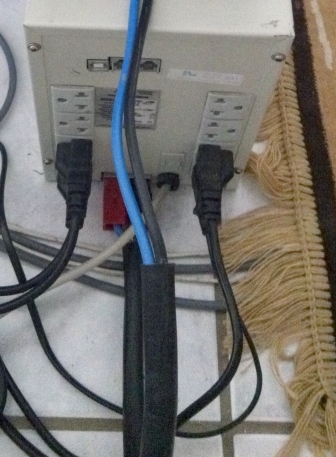 This 1400 VA UPS from TS Shara has already connector for external 24Volt battery
To expand this UPS battery bank it was not difficult, since the main concern was to find the external connectors needed to connect the external bank in the rear part of the equipment. Using and surplus UPS parts, it

UPS under operation using same assembly concept of external bank
Again, always consider security in all operations, installations and only use correct procedures for connectors, welding and isolate everything with professional products like 3M™ Scotchfil™ Electrical Insulation Putty – this black electrical grade, rubber-based, self-fusing insulating putty is supplied in tape form. It´s simple to use, last forever, and support high tension (which is not our case since we are talking about 24V DC).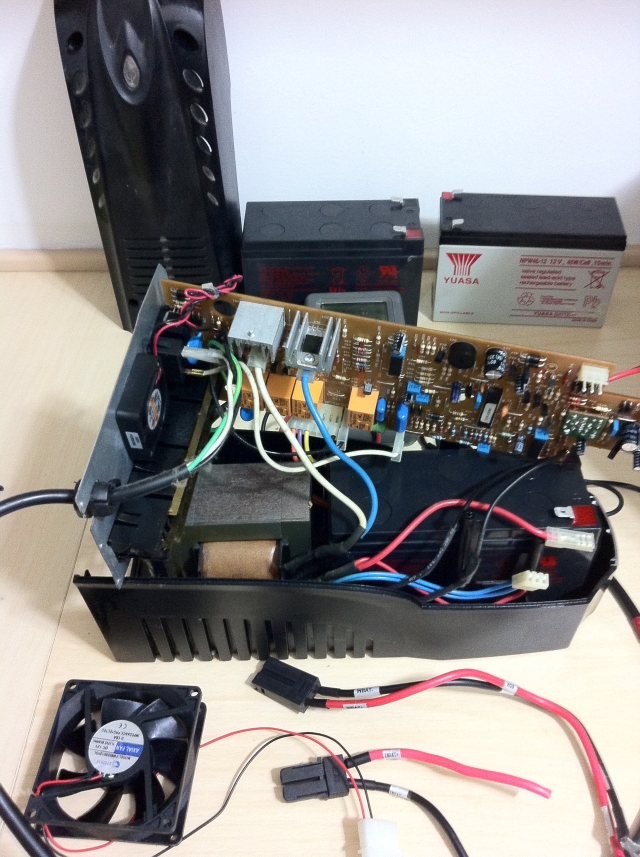 Unmanaged UPS SMS 700VA – all purpose no break
Now, imagine a simple but efficient UPS that has only one internal 12V battery for general purpose use, like a desktop, a PlayStation console and other stuff that must not be turned off due to power outage to not generate not only hardware failure but software issues.
But if you connect some equipment which uses in average half of its nominal Watt output, life battery maybe not enough to even shutdown or device and then, you may have a headache.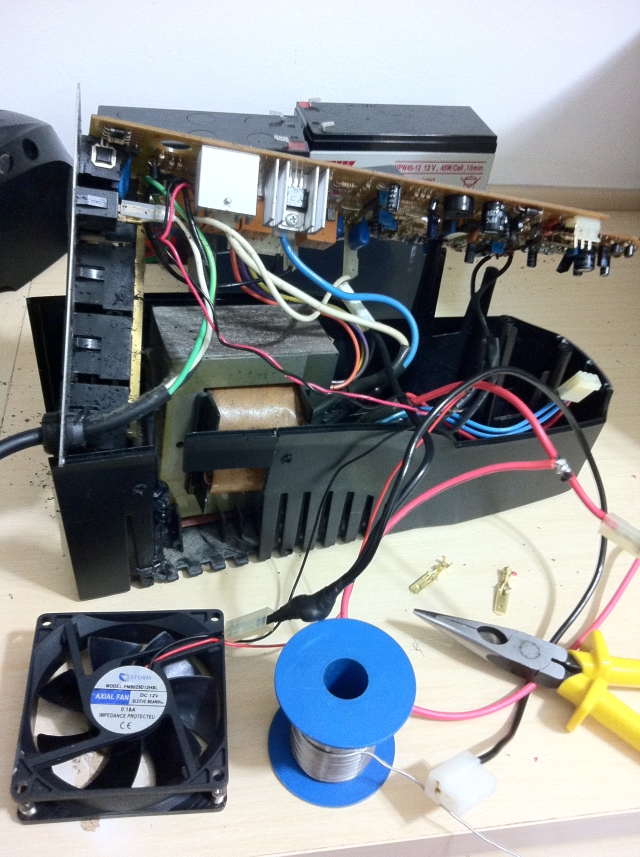 Preparing the cooler and tools after system survey
Considering not using a large and expensive UPS for this kind of situation, you can study how to expand its battery time, but please, check if the rectifier and the AC driver is able to provide more current, otherwise, for sure we will see some component burning and you may feel a bad smell coming from it.
In this case, to avoid temperature rising in main diodes and transistors, I decided to install a simple cooler to blow cold air into the unit, and the air flow is assure naturally by the design of the whole assembly.
It's not a simple issue to blow FRESH air into the equipment; you must assure the HOT air leave the equipment otherwise there will be no AIR FLOW, no temperature stabilization. It´s simple like that.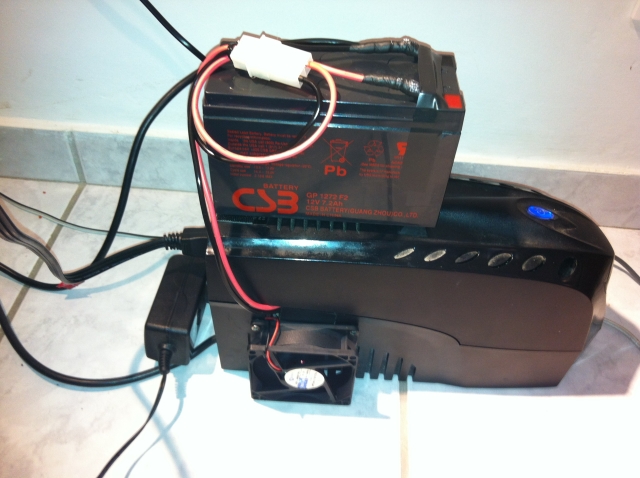 UPS expansion done and fully operational providing power to some gadgets
The battery used is the same standard as the internal one, and it is fixed atop the UPS using 3M Velco.
To isolate the external terminal of the batteries it's advised to use PVC insulated tape – also from 3M or even Silver Tape from 3M depending on the physical position and shape of the equipments. This way you protect the system if some metallic part touch them and provide mechanical stabilization of the external batteries.
To protect the main board from corrosion or humidity, the super master mega plus WD-40 will solve it. Just spray its flux along the board and electrical contacts that you will extend the life of the equipment.
Enjoy your longer life UPS operating time ! But don´t forget, if you are unsure about what to do, please, ask for an electronic technician support.
Grounding, Grounding & Grounding – Good connection to Earth is mandatory for electrical devices work proper and safety, don´t forget it